Maestro Dobel and Silver Oak!
Very limited edition
in stock now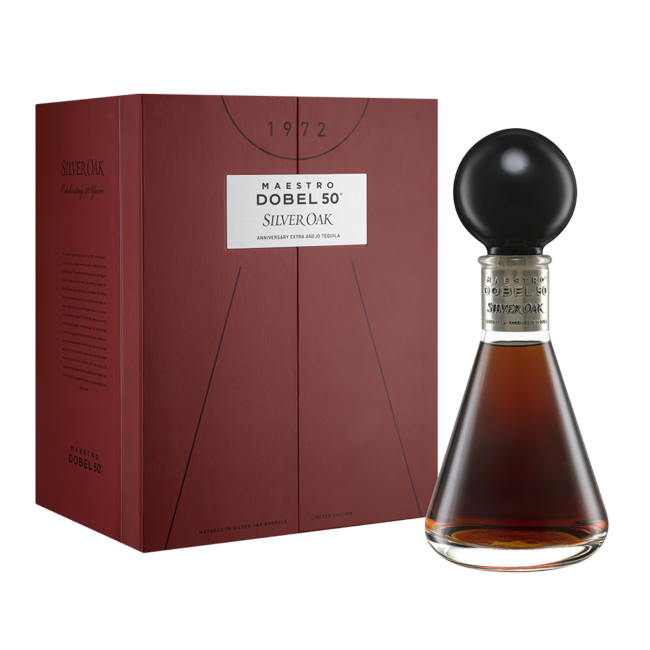 Maestro Dobel Tequila x Silver Oak Extra Anejo Tequila....$1,099.99 / bottle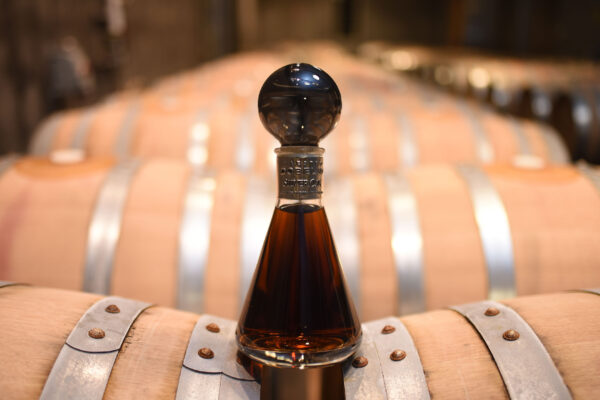 Crafted in American oak, Silver Oak Cabernets are aged in new and once-used barrels—but what happens to the used barrels? Reclaimed staves have appeared in everything from a salmon recipe to a wedding band. In celebration of our 50th anniversary, a batch of used 59-gallon wine barrels took the journey to Jalisco, Mexico, and the result is finally ready to share.
We are proud to share in this latest artisanal tequila collaboration for the Maestro Dobel 50 collection, a label founded in 2017 in honor of Dobel CEO Juan Dobel Beckman's 50th birthday and other half-century milestones. Finished and infused with flavor from American oak barrels, the Dobel 50 Tequila Silver Oak edition is a small production, luxury Extra Añejo tequila handcrafted using 100% Blue Weber Agaves.
"We are thrilled to announce this release in collaboration with Silver Oak, a Northern California icon for whom we have great respect and shared values of familial heritage, tradition and product innovation," says Juan Dobel, founder of Maestro Dobel Tequila. "Dobel 50 Silver Oak edition celebrates a shared 50-year milestone and captures the flavor profile of one of the best wineries we know while enhancing the smooth agave notes of our most exquisite tequila."
About the Tequila
With notes of citrus and dried fruits, the liquid has a translucent appearance with an intensely bright amber color. The complexity of the aromas reflect notes of cooked agave, ripe fruits, caramel and vanilla (from the carefully selected aging barrels), leading into an elegant buttery finish.
About Silver Oak
Founded in 1972, Silver Oak is a leading producer of California Cabernet Sauvignon aged exclusively in American oak barrels. Based in Napa Valley, Sonoma County, Anderson Valley and Willamette Valley, our family of brands includes Twomey, Ovid Napa Valley and Timeless Napa Valley. Across seven wineries and tasting rooms and more than 500 acres of vineyards we farm from Central California to Oregon, the Duncan family is committed to innovative and sustainable viticulture and winery management practices that result in wines of the highest quality and distinction.