Tippleman's
Charleston, South Carolina
Created by bartenders for bartenders, Tippleman's is a series of "Not Quite Simple Syrups" that help bartenders easily introduce more complex flavor characteristics into cocktails and promote creativity behind the bar. Made in small batches, the finest quality ingredients are sourced and thoughtful techniques are applied to make a syrup that is complex in flavor, yet easy to use.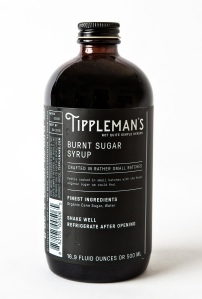 Tipplemans Burn Sugar Syrup...$10.99 / 500ml
A Bitter, Sweet and Aromatic Syrup of Kettle Cooked Sugar.
We slowly kettle cook unrefined cane sugar, high in molasses content and full of flavor, until it is very dark and aromatic. Taking the sugar past its caramelization stage gives the syrup tart, bittersweet complexity with notes of sour cherry, caramel, brittle and toast.
Yields about 17 cocktails
INGREDIENTS: Organic Cane Sugar, Water
BARTENDER NOTES: Using Burnt Sugar is a great way to add depth and bittersweet complexity to your cocktails. We suggest using it when mixing with aged spirits, and it can also add an exciting foil to tropical or sour cocktails.
Other Tips & Tricks: Use in iced coffee, dripped over ice cream, or as a molasses substitution in recipes.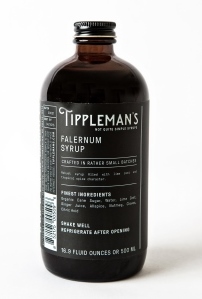 Tippleman's Falernum Syrup....$13.99 / 500ml
An Especially Spiced Syrup with Bold Island Spices, Ginger and Lime
We've added a punch to this classic bar syrup by freshly milling lots of whole spices like nutmeg, clove and allspice, hand peeling the skins of limes and saturating it all in the finest cane sugar we could find. Fresh ginger juice is added to make a robust syrup with notes of vanilla, lime leaf and clove.
Yields about 17 cocktails
INGREDIENTS: Organic Cane Sugar, Water, Lime Zest, Ginger Juice, Allspice, Nutmeg, Cloves, Citric Acid
BARTENDER NOTES: An obvious addition to rum based tiki drinks, but works equally as well with aged spirits to make fall spiced cocktails. Making falernum is a labor of love, from milling fresh whole spices to peeling and grinding fresh citrus peel and juicing ginger. We happen to love making it, so we hope you love mixing it in your cocktails to add unique tropical spice character.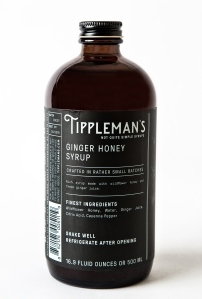 Tippleman's Ginger Honey Syrup...$15.99 / 500ml
An Intriguingly Spicy Syrup Made From Fresh Ginger and Wildflower Honey.
We blend wildflower honey with fresh ginger juice, then add a hint of cayenne pepper to accentuate the ginger's picante characteristic. The end product is a robust, pourable syrup with bright notes of honeysuckle, jasmine and ginger blossom.
Yields about 17 cocktails
INGREDIENTS: Organic Wildflower Honey, Water, Ginger Juice, Citric Acid, Cayenne Pepper
BARTENDER NOTES: We find honey to be a great sweetener for scotch, mezcal and tequila drinks. Ginger adds a picante characteristic that accentuates complexity and lengthens the finish.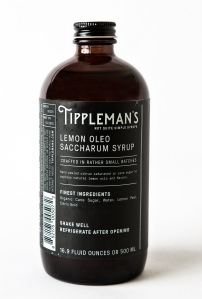 Tippleman's Lemon Oleo Saccharum...$16.99 / 500ml


This syrup requires 126 hours per batch to make, but lends bright citrus notes to your cocktail without adding citrus juice or acidity.