If you cannot make it to the event, you can order your wine online now to be autographed by Coach Vermeil!!! We will let you know when it is ready for pick up or ready to be shipped if you do not live in the area!
TONIGHT!!
Thursday, September 17th
5:30-7:30
AN AMAZING WINE TASTING EVENT
WITH SUPERBOWL XXXIV COACH
DICK VERMEIL!!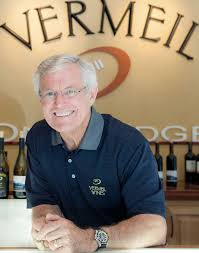 We are VERY excited to announce that we are hosting an amazing tasting with a St. Louis Hero!!

Dick Vermeil led the St. Louis Rams to a glorious Superbowl Win in 1999, and after retiring from the game, went back to his roots in Calistoga, where he crafts luxury wines that express the soil and history of Napa Valley. With esteemed winemaker Thomas Rivers-Brown now at the helm, the wines are being escalated to even greater heights!
Check out this awesome lineup of wines to be tasted, many of which have previously been available only to winery club members (vintages are subject to change):

Coach Vermeil is bringing in some wines
that have never been outside of the winery before!
2013 Napa Sauvignon Blanc....$18.99
"
2014 Dutton Ranch Chardonnay...$29.99
"Our Chardonnay is brilliant, clear and straw-colored with subdued scents of lemon and oak as it develops a creamy texture, oily viscosity, rich flavors of vanilla and hints of smoky oak. With proper cellaring, this wine should continue to develop richness for the next three years."



2010 XXXIV Red Blend....$31.99


"Purple-black-opaque which opens after decanting to grapey aromas and extracted flavors of cassis and black cherries, finishing balanced with firm, ripe tannins."



2012 Integrity Red Blend....$84.99
"Purple and red colors open with decanting to the fragrance of black cherries and cocoa with background hints of sweet oak and smoke. Round and soft, the palate features subtle flavors of green olive, coffee and cassis. This wine is drinking nicely now, and will improve with 5 years in the cellar."
Both wine lovers and NFL fanatics are encouraged to come by the shop and taste with the Coach! Autographed bottles will be available for purchase the night of the tasting. This is a can't miss event!!



Not in St. Louis? If you can't make it to the tasting in person, don't worry. We will offer gift sets with autographed bottles that can be shipped to your door!

MORE DETAILS TO COME, SO STAY TUNED!

Any questions can be directed to:

chris@wineandcheeseplace.com
314.962.8150