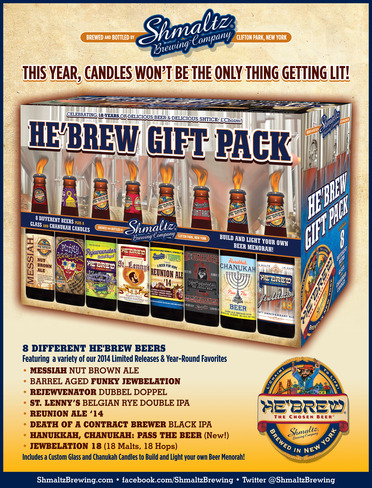 He'Brew Gift Pack...$26.99 / 8 beers plus a glass
Shmaltz's 5th Annual He'brew Gift Pack, a showcase of 8 of He'brew's most sought after beers, is sure to add cheer this holiday season!
The eight pack of 12 oz. bottles includes
18th Anniversary Jewbelation 18

Black Session Barleywine

Hanukkah, Chanukah: Pass The Beer Dark Ale (8 malts, 8 hops, 8% ABV)

2014's Funky Jewbelation:

the rare, barrel-aged sour beer,

Rejewvenator

Terrapin Brewing (Reunion Ale '14 - A Beer For Hope)

Cathedral Square Brewery (St. Lenny's -- The Immaculate Collaboration)

Death of a Contract Brewer Black IPA (7 malts, 7 hops, 7% ABV)

Messiah Nut Brown Ale.

The Holiday Season is upon us and while you're giving thanks and making plans we are busy rolling out a lineup of spectucular Seasonals to light up the holidays and keep you warm all winter long!

After 18 years of brewing, we are finally launching the official Chosen Beer to celebrate those 8 crazy nights - Hanukkah, Chanukah, Pass the Beer - brewed with 8 malts, 8 hops & of course 8% ABV. We have also launched our VERY LAST He'brew Gift Pack, filled with 8 of our seasonal and core favorites, brewed throughout 2014. Have no fear, the Beer Menorah Contest will be a little different, but will continue for years to come. To celebrate our 18th Anniversary, Jewbelation 18, brewed with 18 malts, 18 hops and a sessionable 12.4% ABV is now available in ALLLL our states. L'Chaim!


Stay tuned for He'brew events across the country - near you! Our annual Chanukah vs. Christmas Battle Royales and our special Most Chosen Bar tap takeovers will all be announced shortly so check out website and social media for details. If you're close to the brewery, every Friday we'll be releasing a new seasonal so come on in, sample the freshest He'brew Beer available and pick up plenty of He'brew swag and Beer To Go!

BUILD YOUR OWN BEER MENORAH

The He'Brew Gift Pack features a custom glass, Chanukah candles and a beautifully hand-painted "Build Your Own" Beer Menorah portrait by Ballston Spa, NY painter Jennifer Maher. Build your own Beer Menorah, snap a picture and post to our Facebook Page or email us a tbeermenorah@shmaltzbrewing.com for a chance to win great prizes, along with the pride and recognition of showing your handiwork to over 12,000 Facebook friends from around the country! #Beermenorah