Back in stock
Mikkeller Chipotle Porter...$12.99 / 750ml


Rated 99/100 RateBeer
Rated 100/100 RateBeer in its style
6% ABV
Porter
A very special and complex dark ale, brewed with American hops and malt, and made particularly unique by the addition of warming chili and hints of vanilla.
Mikkeller Winbic...$12.99 / 750ml
Rated 95/100 RateBeer
Spontanale and Saison Blended
"Lets us introduce Win Bic. Win Bic is a new friend in the X-mas family from Mikkeller. Its a blended Spontan Ale and Saison, It is 6,0% abv,
The Tasting panel said: Cloudy light orange with a fine foamy thick white head.
Aroma – A mild spicy impression with acidic green apples, cloves and a sweetness as from dried apricots. We also find some bitterness as from lemon peel and a lactic touch. You clearly sense the saison notes as white pepper and mild various spices.
The taste blasts out the saison expressions in the beginning and we think of oxidated apples as you find in certain ciders – after that you get the lactic and sour impression that appears very refreshing and drinkable. A freshness topped with dry impressions of the barrels. You feel like another sip.
The mouth feel is not as carbonated and fizzy as in most of Mikkellers spontan beers. The finish is very dry with a touchy bitterness that again reminds of citric peel. For some this citric bitterness could get too much.
It certainly has a Christmas like expression."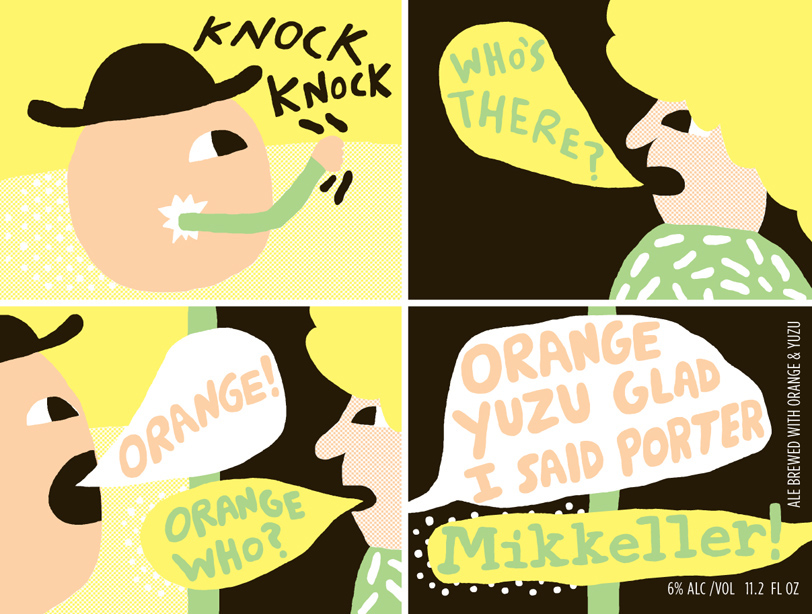 Mikkeller Orange Yuzu Glad I Said Porter...$13.99 / 750ml


Rated 95/100 RateBeer
6% ABV
Porter
A porter with Yuzu (Citrus fruit), wheat and lactose. Flavor is sweet of yuzu with notes of orange and coffee.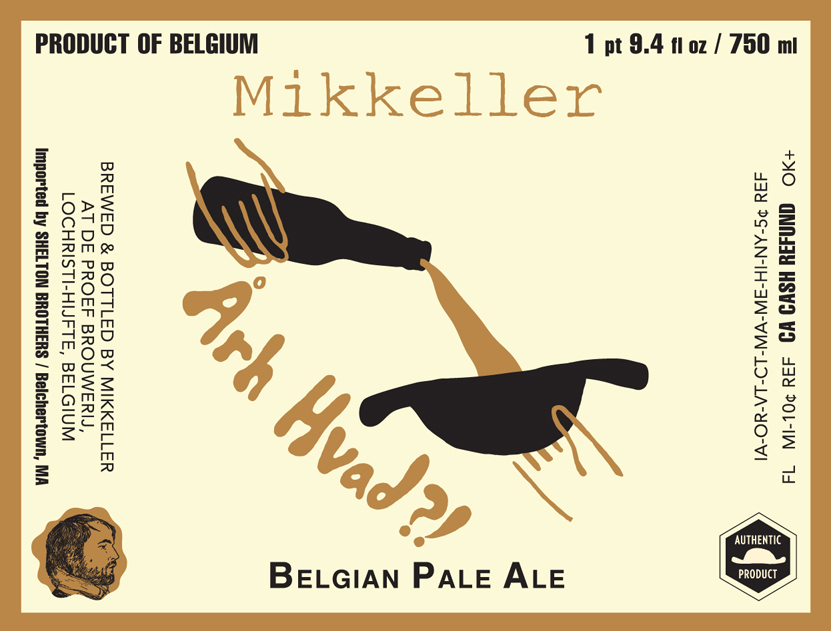 Mikkeller Ah Hvad?!.....$11.99 / 750ml
Rated 96/100 RateBeer
Ratred 99/100 RateBeer in its style

"SAY WHAT?"
"Say What?" That's what it means.

Årh Hvad?! is Danish for "Say What?" However, when pronounced in proper Danish, it also sounds a lot like the word "Orval", a Trappist brewery I'm sure you guys have heard of.

Årh Hvad?! is Mikkeller's interpretation of Orval, one of Mikkel's favorite beers.The color is a cloudy amber and has a white head. The taste is peppery, malty with a hoppy finish. It is hopped four times with Styrian Goldings hops. The fermentation is done with two yeast strains, one of which is brettanomyces,

Årh Hvad?! is brewed for Mikkeller at De Proef Brouwerij in Belgium.
Mikkeller Jackie Brown....$12.99 / 750ml


Keith Shore, Mikkeller's label designer and creator of our graphic identity, is currently in the process of giving new life to several of our good old beer labels.
Classic beers from Mikkeller have been getting a make-over in Keith the Wizard's workshop, which has given them a whole new look.
Jackie Brown, the good old brown ale, that has been an integral part of Mikkeller's repertoire for the past 5 years, is one of the labels that have undergone a transformation. From brown and slightly anonymous, it has been turned into an air plane ticket. It refers, of course, to Tarantino's heroine stewardess Jackie Brown, from the movie of the same name.
Monk's Elixir, or Monk's Brew as this Belgian ale is called abroad, is another example of a label that has undergone a significant transformation. From brown monk to evil skull.
Last but certainly not least, I would like to mention Draft Bear, Mikkeller's imperial pilsner, which has been turned into a roaring bear with fangs and foam around the mouth.
But don't worry, it is certainly only the packaging that has changed. The content is still the same great beers of the highest quality