Boetje Honey Mustard....$5.99 / 8.5oz
The latest edition to their award winning line up!!
From our neighbors in Illinois!
Boetje Bourbon Barrel Aged Brown Mustard...$5.99 /8.5oz
Boetje's Mustard....$3.99 / 8.5oz
Boetje's Mustard Named GRAND CHAMPION
Stone Ground & Wood Aged
Boetje Foods Inc. offers you our gourmet stone ground mustard for your dining pleasure. Boetje's tangy flavor has the zip that makes it a favorite for steaks, sandwiches, burgers, marinating, and dipping. This distinctive mustard is formulated from an Old World recipe, using only the finest ingredients. It starts with the special grind we give our mustard seeds, then the careful blending and aging in wood vats, followed by the stone grind process that releases the flavors of all the ingredients and marries them into one perfect, creamy smooth blend.

Boetje's Mustard Named GRAND CHAMPION
As you may have heard by now, last week Boetje's Mustard was named the

GRAND CHAMPION in the World Wide Mustard Competition!!

We have won Gold Medals before, and we did again this year in the Coarse Grained division, but this is our first Grand Champion win and we couldn't be more excited!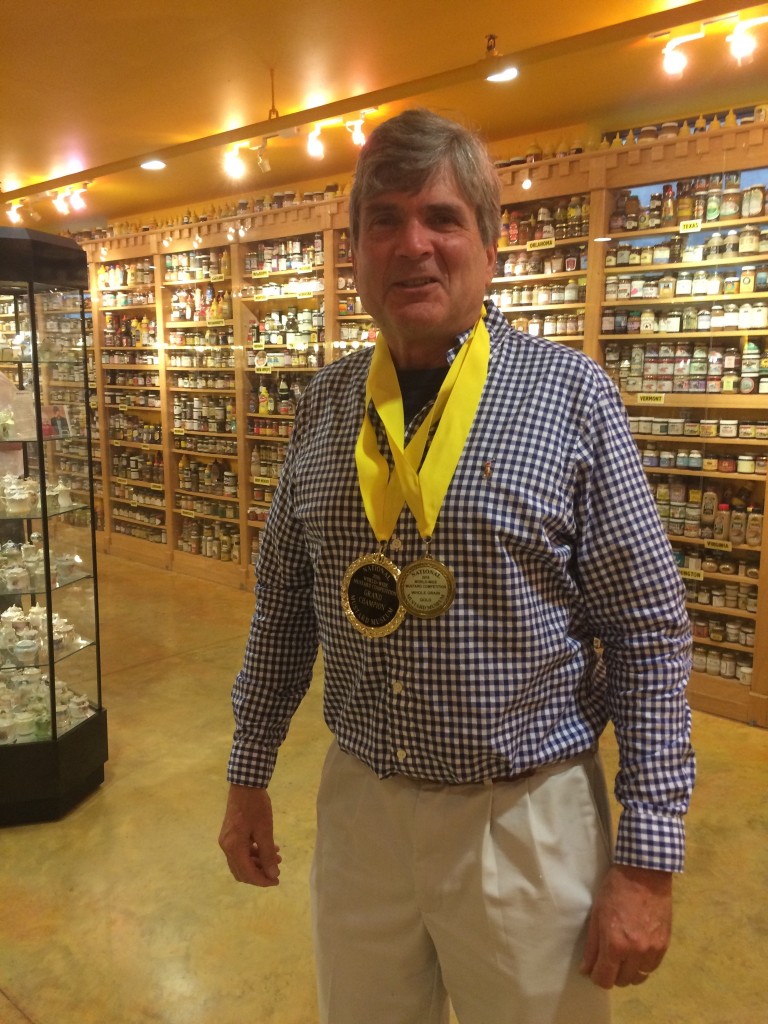 Will wearing the Gold Medal for Coarse Grained mustards, and the Grand Champion medal for the World Wide Mustard Competition!
We've had such great responses and support from our Quad City community and mustard lovers around the world, and we thank each of you for celebrating with us! Thanks to all of you who have liked, linked, tweeted, shared, posted, and even written your own stories about our win.
Now break out the Boetje's and let's celebrate!